Custom Deck & Stair Building & Installation
Get easy access down to your beach with completely customizable stairs, decks, and landings—built uniquely for your Lake Michigan property.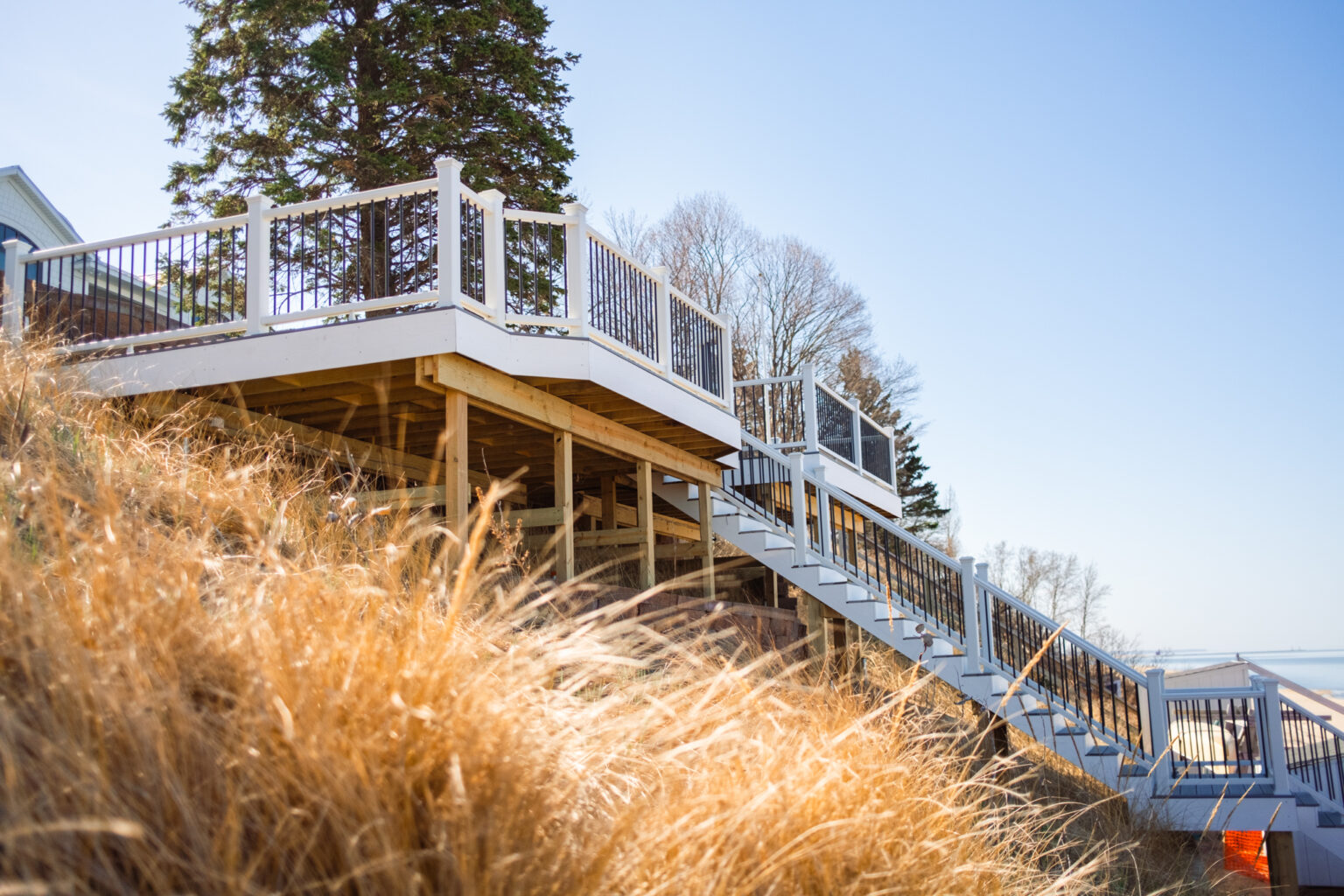 Lost your stairs with the changing lake levels?
As a property restoration contractor, Lakeshore Customs builds custom solutions for waterfront access all along Lake Michigan's shoreline. We've helped our neighbors here in Michigan with a range of deck building services from removable aluminum stairs to custom permanent landings. At the same time, we've helped them protect against erosion and revegetate their dunes. 
How can we help you restore your property and regain access to your beach?
Deck & Stair Solutions Built For Your Unique Need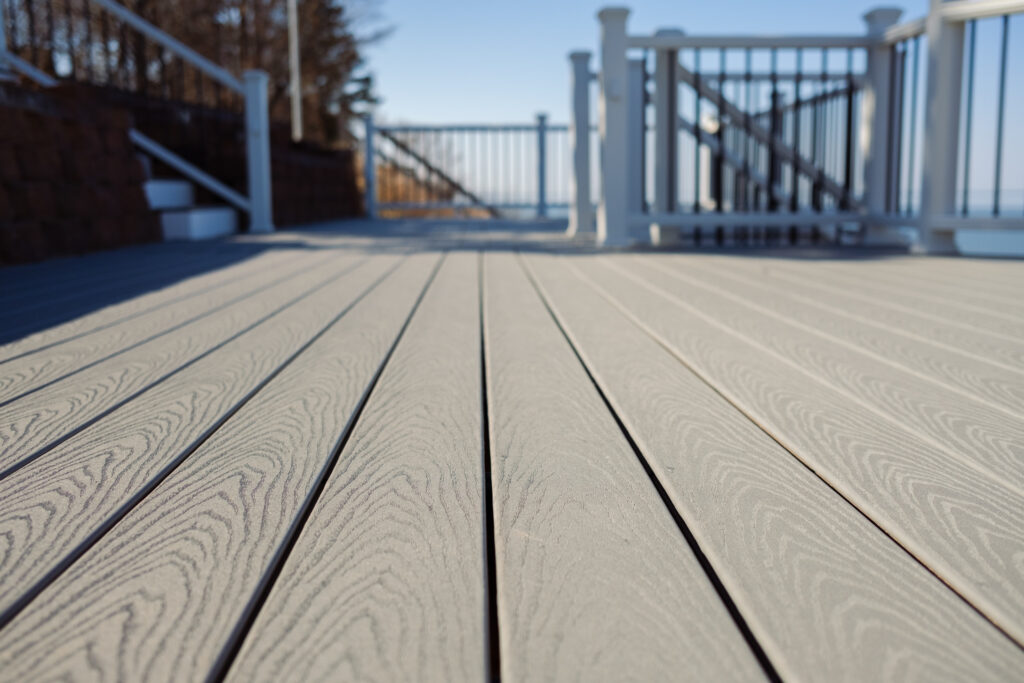 Composite Decking & Stairs
Composite decking maintains the appearance of natural wood while offering several advantages over traditional wood decking. If you're looking for a low-maintenance, durable, long-lasting solution for both your deck and beach stairs, composite is for you! We also install TimberTech composite decking for a long-lasting natural appearance.
Treated Lumber Decking & Stairs
Love the look of natural wood deck and stairs? A treated lumber deck ensures great resistance to the elements and lasts a long time with the proper care and maintenance. A wood deck and stair set can be completely customizable to your needs!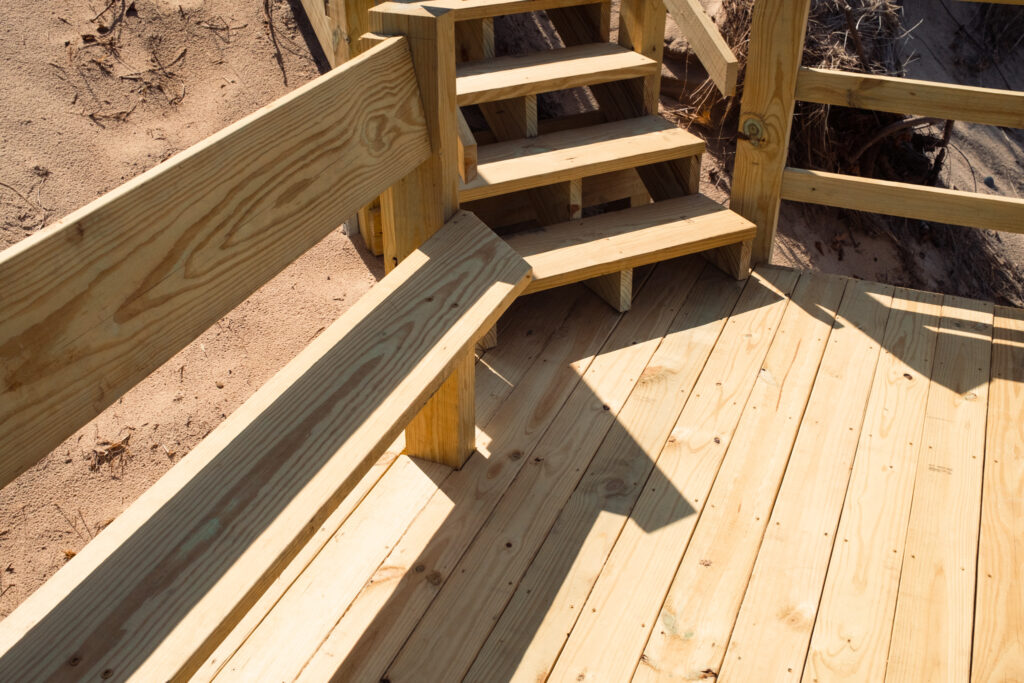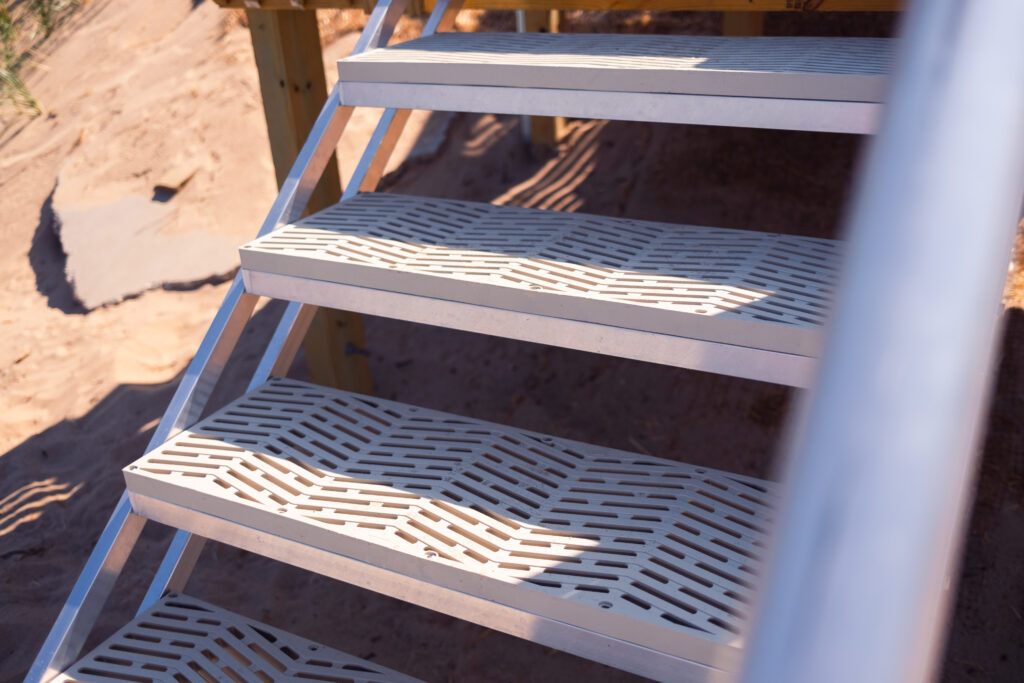 Retaining earth steps are one of the most natural solutions you can get to beach access! Made from lumber and locally sourced sand, these steps are great for pathways on sloped landscapes.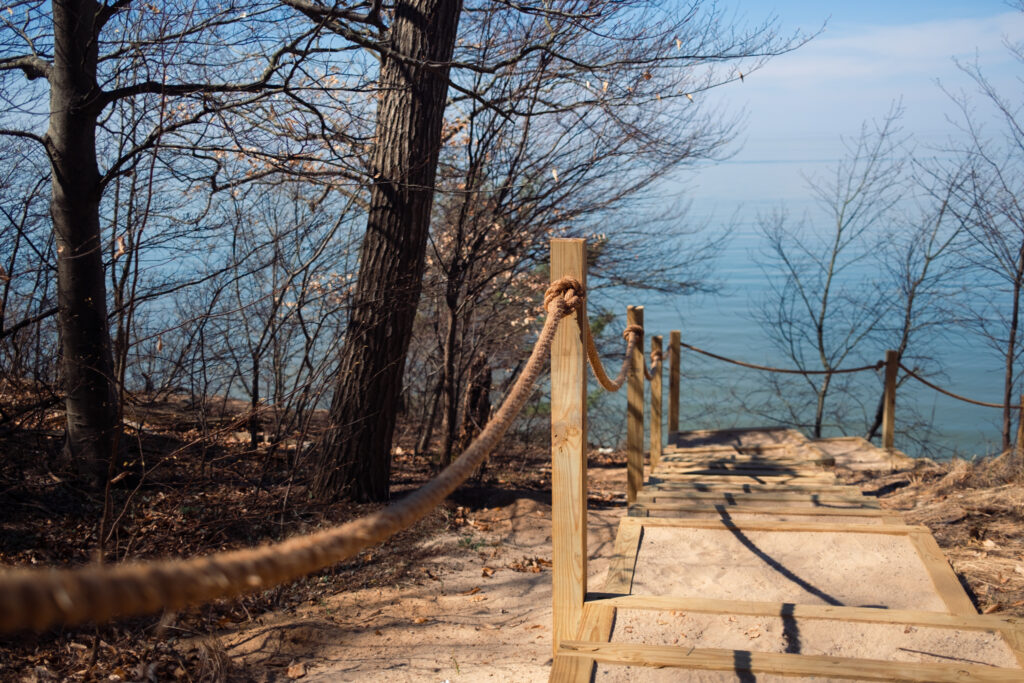 Customization to Meet Your Exact Need
We can customize your deck completely based on your property's unique geography and your unique preferences. This includes custom-built landings, custom measurements, cable railings, built-in benches, hose fixtures, lighting, and more. Let us know how we can build your dream deck!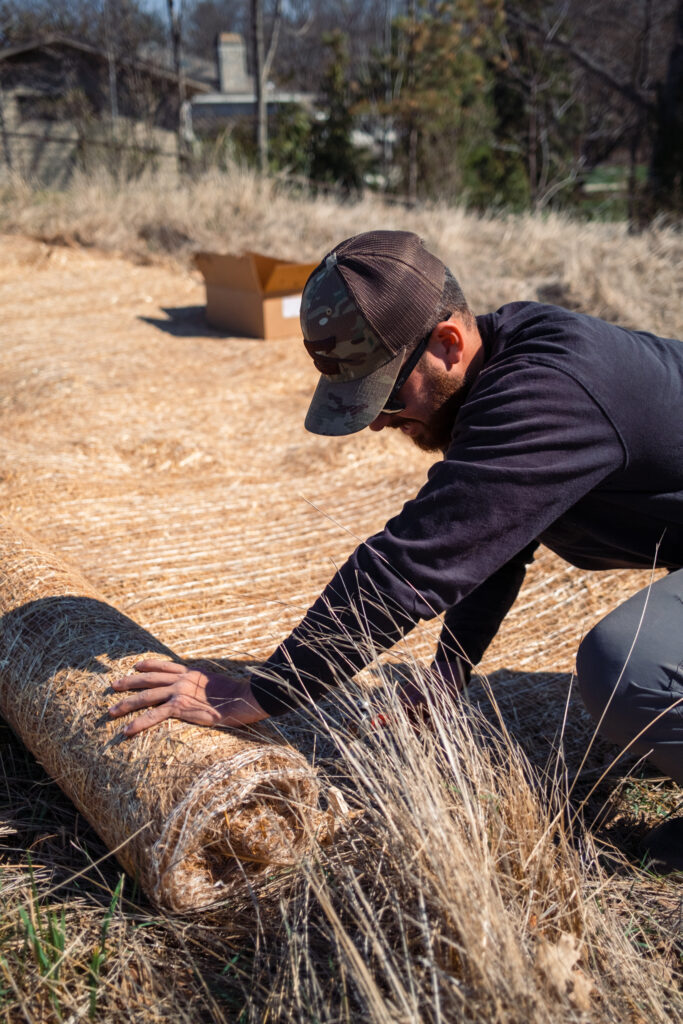 Get Full Property Restoration, Protection, and Enhancement
Lakeshore Customs is the only company you'll need to call for complete lakeshore property restoration and enhancement—done the natural way.
Custom Deck & Stair Construction with Lakeshore Customs
Get a custom deck and steps tailor-built to your property so that you can enjoy your beach again! 
We travel throughout West Michigan to provide deck and stair services. Get a quote on your home by sending us a quick message on our website or calling us at (616) 994-2215.
Preparing for A Successful Deck Building
The same erosion that damaged your previous beach steps also takes a toll on your dune. We recommend stabilizing eroded dunes with erosion control measures and planting vegetation before beginning your deck and stair construction.
We help restore dune growth for the security of your property and the success and longevity of your future deck and stair construction.
We install erosion control blankets and straw mats on dunes that have no vegetation or any type of foliage. They prevent dune shifting for a stable deck and stair build.
Keep your dunes in place with fast-growing beach grass, native to Michigan. The vegetation's strong root systems minimize sand movement and keep the area stable for building.
Deck & Stair Installation – What to Expect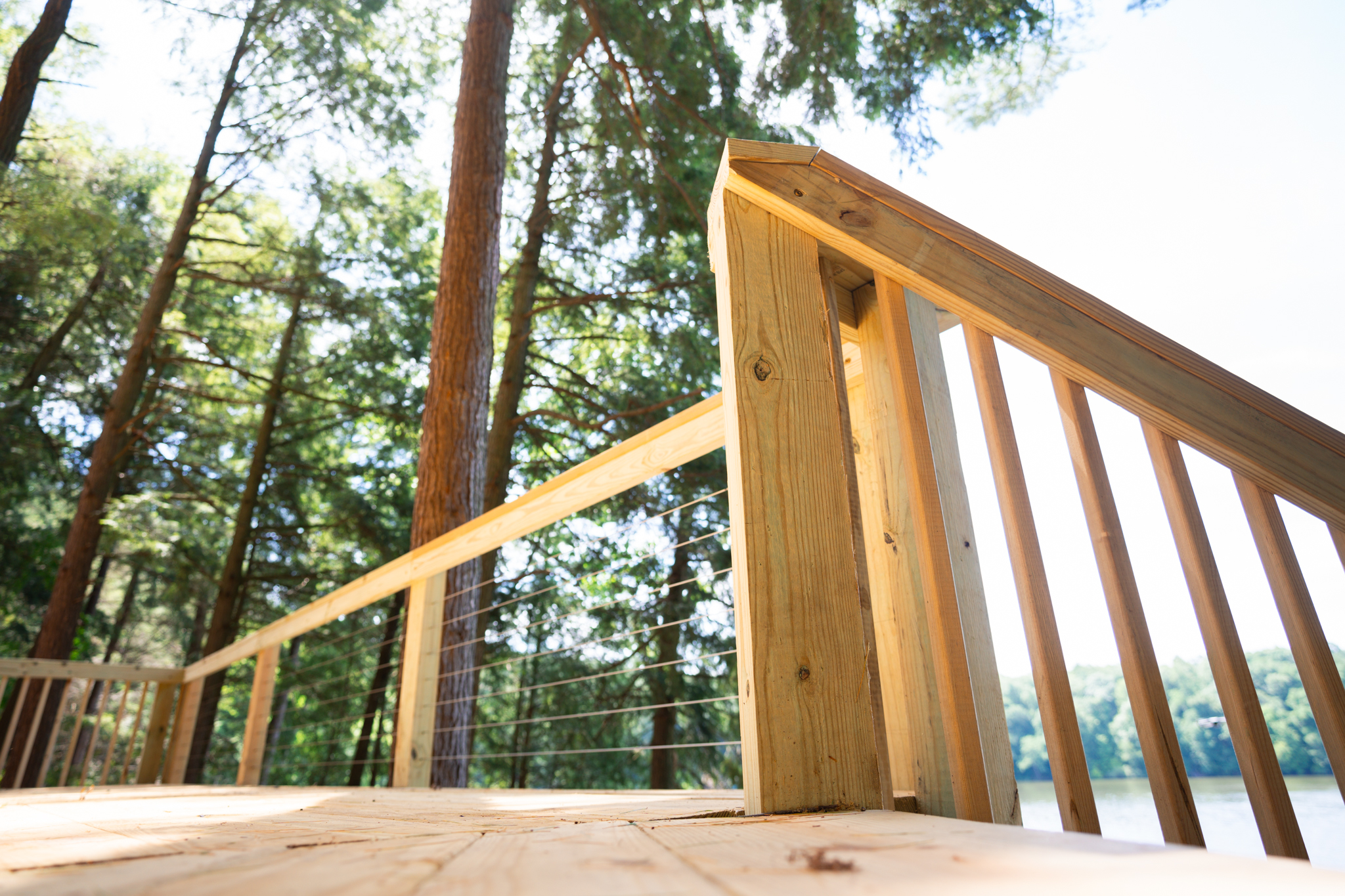 Custom Deck & Stair Builders Near Me
While 'Lakeshore' is in our name, we build and install decks and stairs throughout Michigan, not just along the lake. You can find our work near you in: