Ponds provide an ecosystem and outdoor oasis to your backyard and have both practical and aesthetic value. It's no surprise that many homeowners want to create their own whether for recreational purposes, agricultural use, or simply to attract wildlife!
Before building a pond on your property, however, comes the work of preparation. This planning includes a thorough consideration of the site itself, local and federal requirements, excavation measures needed, future maintenance required, and more.
Read along to see if building a pond on your property is right for you!
What to Consider Before Building a Pond
There are many factors to consider when beginning your pond construction. Taking these into account before starting the process will save you time, money, and effort.
1. Type of Pond
The type of pond that you desire will have an effect on where it is placed, how it is designed, and the potential permits needed. A few common types of ponds installed are fish ponds, wildlife/plant ponds, swimming ponds, or water sources for commercial or agricultural use.
Depending on the function of your pond, the following considerations will need to be taken into account when excavating the property, often requiring heavy equipment to perform the task:
Pond Size
Pond Depth
Time of Year
Physical Condition of the Terrain
Material Handling
Water Retention Capability
2. Soil Type
Before beginning your pond project, you should have an assessment of the type of soil you're dealing with. This will help you determine how suitable the location is for the addition of a pond based on how the soils and bedrock hold water. Clay, sandy soil, and rocky soil all bring their own challenges when it comes to excavation.
Finding your soil type can be done by excavating a small area on the property where the pond is to be placed. A few diggings can determine the soil profile and whether it's suitable for your needs.
3. Location
Along with a consideration of soil type, a careful determination of the location of your pond will help you build one that is practical and feasible.
While some might think that low areas are best for building a pond, upland sites are actually favorable to low, marshy areas! Upland areas provide a better location because the groundwater table will be closer to the surface with a higher elevation. The excavation process is also easier upland vs. the low, marshy, or muck-filled areas that will be much harder to work with.
In general, lowlands or wetlands should be avoided when creating a pond. They may even require special permits since they may be home to wildlife habitats and converting them into ponds is not recommended.
We'll help you scout for a location with compatible soil and water tables. Just give us a call!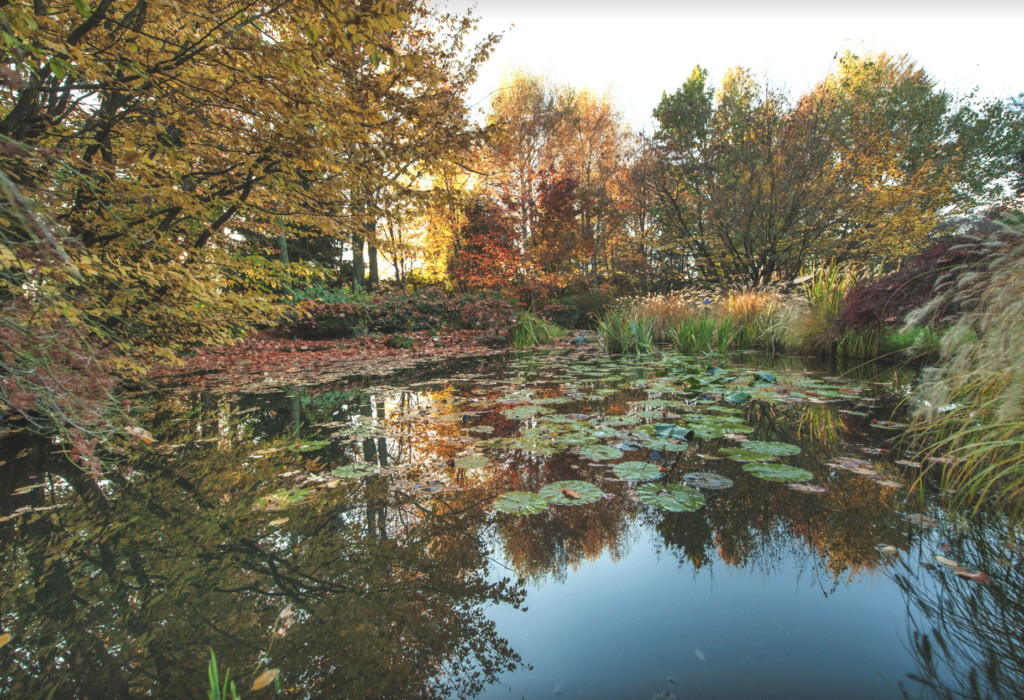 4. Shape & Size
While it's possible to create a pond of any shape, like a rectangle or ellipse, a pond can also be excavated to blend into the natural landscape! Simpler shapes like rectangles are often easier and cheaper to excavate, but a rounded-out natural shape may fit in better and be more pleasing to the eye.
5. Permits
One of the most important steps of the planning process is obtaining the permits to excavate a pond on your property. Not every project will need one, but in certain cases, the state requires a permit prior to beginning the work.
According to Michigan's Department of Environmental Quality (DEQ), a permit is needed when building a pond that is:
Within 500 feet of a lake, river or stream.
Connected to a lake, river, or stream.
Within a regulated wetland.
Within a regulated 100-year floodplain.
Will have a surface area of 5 acres or greater.
Let us take care of the permit process for you!
6. Maintaining Your Pond
Like any landscaping or large property project, you should consider the maintenance that will be involved when building a pond on your property. While some ponds require little to no upkeep, ponds built for fish will require regular upkeep for example.
Pond maintenance may include vegetation installation and control, restocking fish, potential debris removal, and monitoring your pond water levels. You should plan and budget for this maintenance that will need to take place after your pond construction is complete!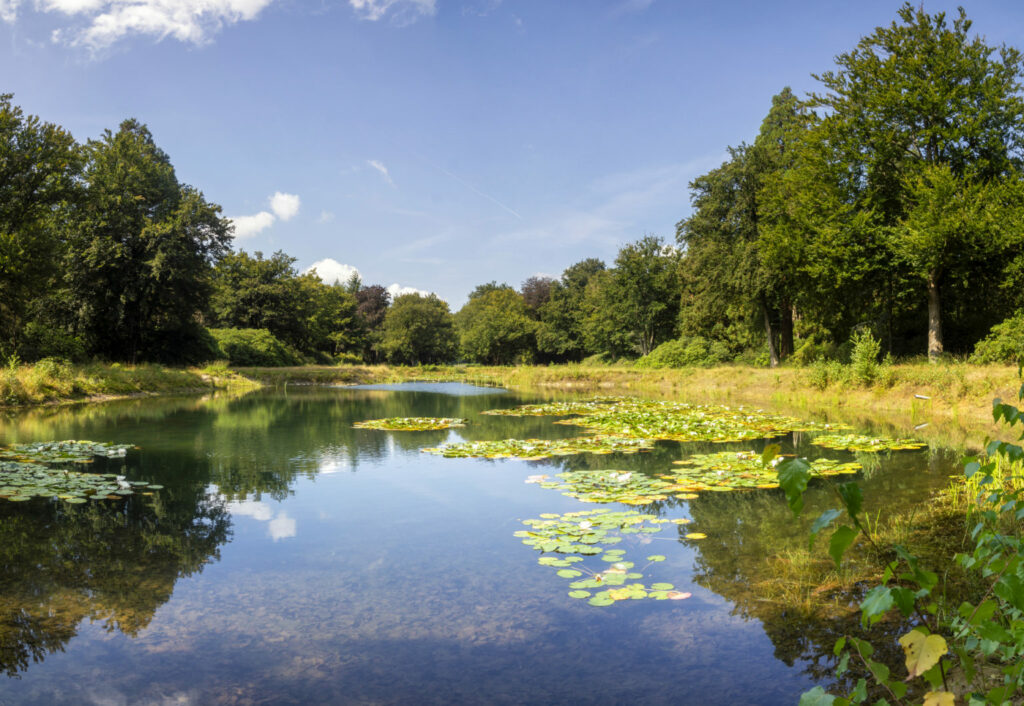 Benefits of Building a Pond on Your Property
Creating your own pond has endless benefits for your enjoyment and even for your property value!
Attract Local Wildlife. Creating a natural pond draws birds, frogs, toads, and other wildlife to it, bringing a whole new ecosystem to your property!
Irrigation Source. A pond can serve as a freshwater reservoir that can be used for irrigating purposes.
Keep Your Backyard Cool. You'll be glad to have a pond in a summer heatwave! The water that evaporates off your pond will cool the air around it so that you can relax all summer long.
Aesthetic Value. A pond and its surrounding pond landscaping will provide an oasis of natural aquatic plant life to your backyard!
Property Value. When done right, a pond can increase the curb appeal and property value of your home or business!
Control Stormwater Runoff. A pond can serve a bigger purpose, namely to control stormwater runoff, erosion, and flooding, especially on commercial properties.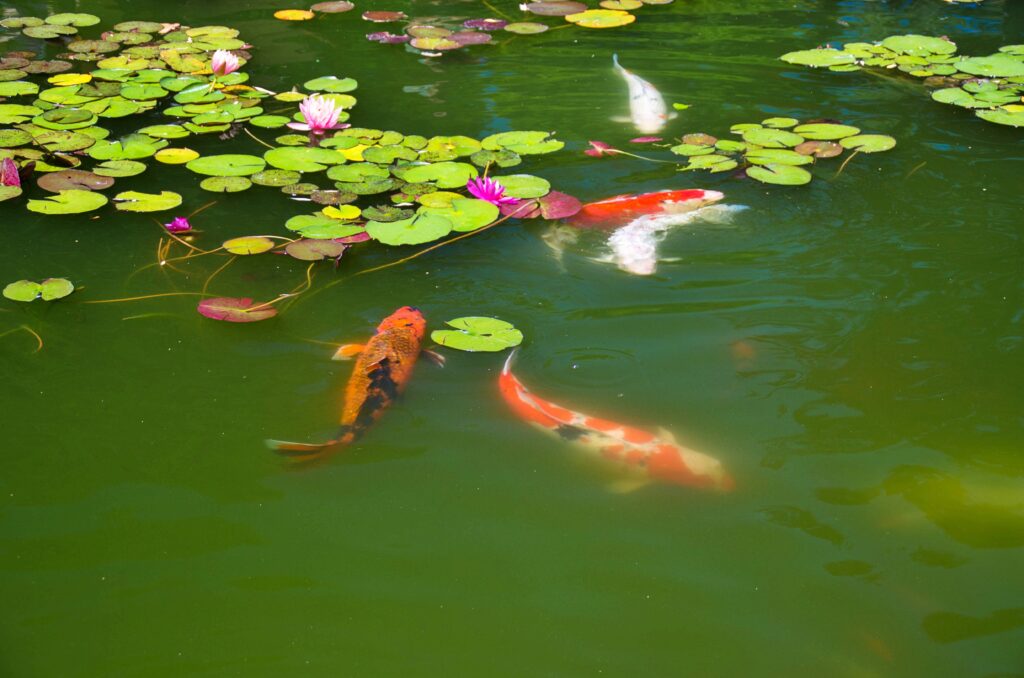 Starting Your Pond Construction Project
After assessing your property and the type of pond you desire, it's time to begin your pond construction project!
Hire a Pond Excavation Team!
Lakeshore Customs is a multi-faceted construction and landscaping business, specializing in a variety of services to protect, enhance, and restore your lakeshore or inland property. Excavation, pond construction, erosion control, and vegetation are just a few of the property services we do in West Michigan from Muskegon to Holland to Benton Harbor and beyond.
We offer pond construction and excavation services to develop a source of water for either commercial use, residential areas, or recreational purposes. In addition, we provide pond landscaping solutions to keep banks and shorelines secure from erosion and add vegetation to the area.