Are you looking to level up your Lakeshore Property? The first thing you will want to do is invest in a stable stair system. Having a stable stair system in place will make your beach access safer, easier to navigate, and more manageable to use. Quality decking and stairs will save you from having to worry about slipping hazards, rotting or corrosion, and erosion from unwanted foot traffic.
And when it comes to building materials, we are confident that aluminum stairs are the right decision for the job. They are a simple and timeless installation that will instantly improve your property value and provide safe beach access.
But wait, there's more that aluminum stairs have to offer…
The Benefits of an Aluminum Stairway
Suitable for Many Different Waterfront Applications
Aluminum stair systems are adjustable and adaptable to your beach's unique conditions. They maintain their looks and quality throughout the seasons and are built for safe beach access in both wet and dry conditions.
Maintenance-Free & Long Lasting
Maintenance is practically non-existent with aluminum stairs. It's all thanks to aluminum's natural oxide layer that protects the material from the elements. The oxide layer is also self-repairing and will spontaneously re-form if scratched or scuffed. Because of that, aluminum stairs will remain looking as good as new for a long while.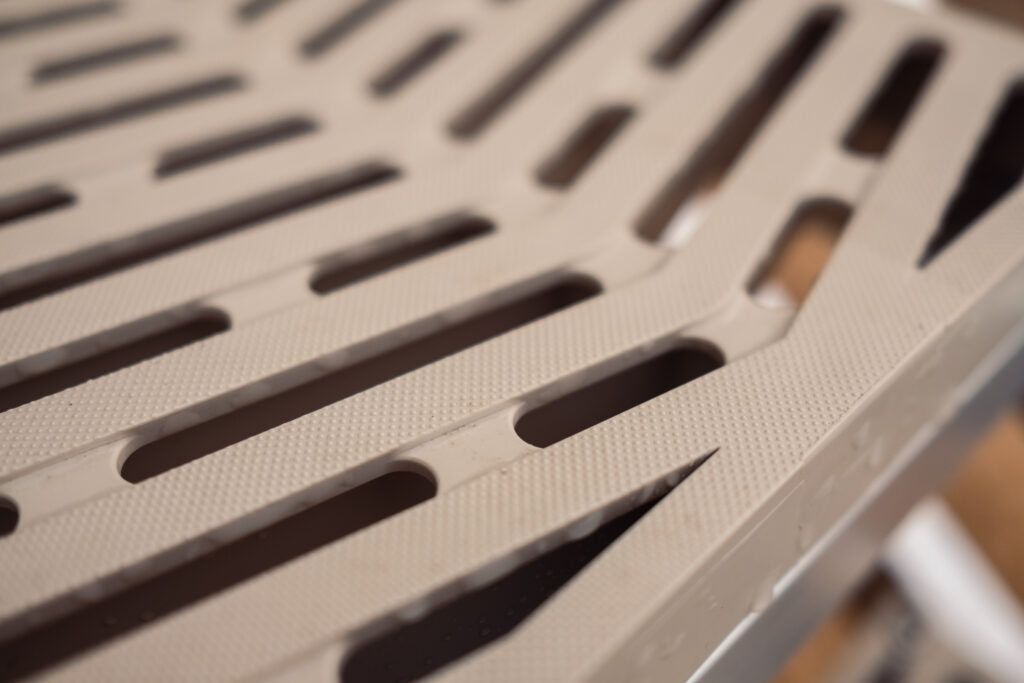 Comfortable Underfoot
Aluminum stairways are non-slip during both summer and winter. And while aluminum may sound like a hot metal during those summer months, it naturally disperses heat, greatly reducing its temperature. It will still likely be warmer to the touch than wood steps, but don't let that deter you! We promise that aluminum steps are safe to use in the summer. But best yet, aluminum stairs are pet-friendly!
Adjustable & Adaptable or Permanent
At different times of the year, you might notice the levels of your beach increase or decrease. Aluminum staircases are made to be adjusted with the natural fluctuation in your beach. You could also remove and stack aluminum stairs neatly away for winter if needed. But if you are looking for something more permanent, that works too! Aluminum has a high strength-to-weight ratio which means aluminum stairs are lightweight yet sturdy.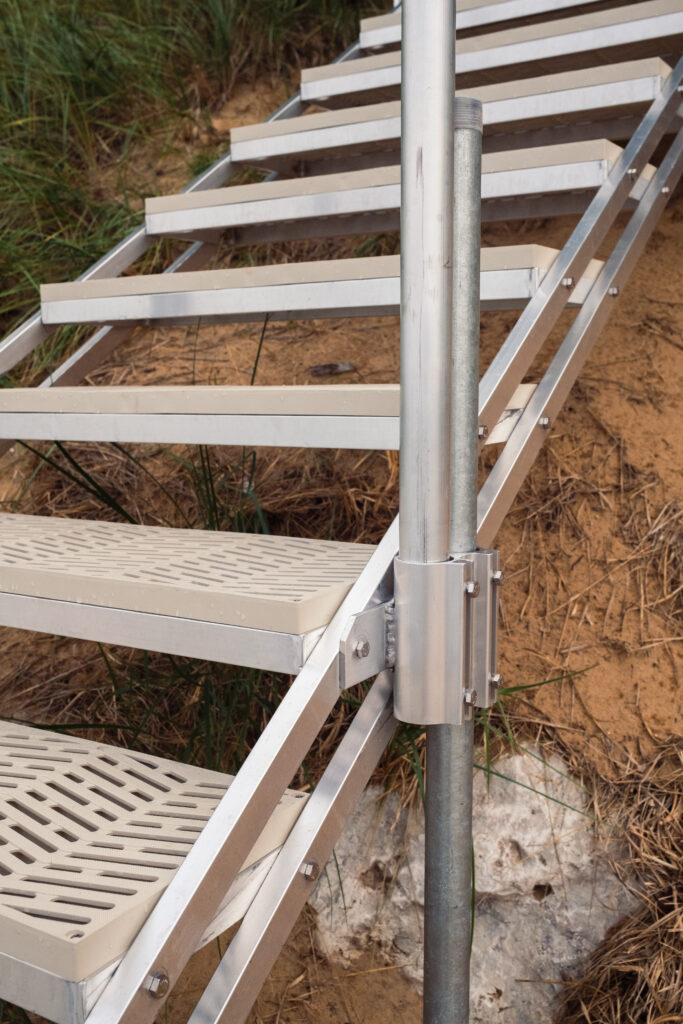 Rust- & Corrosion-Free
Aluminum alloys contain almost no iron, and without iron, the metal will not rust but oxidize. When the stairs are exposed to water, an aluminum oxide film will form quickly on the surface. The hard oxide layer is resistant to further corrosion and protects the underlying metal.
Prefabricated for Quick Installation With a Custom Deck
As simple as puzzle pieces, prefabricated aluminum stairs can be put together quickly. They also require less labor to move and install thanks to their lower weight.
Sustainable
Aluminum is one of the most sustainable materials we use today. The Aluminum Association estimates that almost 75% of all aluminum ever produced is still in use today. Unlike other materials, aluminum can be perpetually recycled, losing none of its properties along the way. This is what makes aluminum a valuable scrap metal when it comes time to recycle an aluminum staircase at the end of the product's use.
Lumber Stairs or Aluminum Stairs: Why Not Both?
Benefits of Lumber Stairways and decks:
They blend into the sand and look great!
They will stay cool during the summer
They have a comfortable tread and are also pet friendly
Wood has a low material cost and can be completely customized to your needs
Custom lumber decks and stairs definitely have their advantages, but aluminum sections are best when it comes to constant lakeshore interaction. In order to protect the material against waves and weather conditions, wood must be sealed (and re-sealed). This ongoing routine maintenance could create additional cost over time. And when it comes to adjustability, the aluminum steps are unparalleled.
Many of our customers that love the look of a complete lumber stairway but want the durability and adjustability of the aluminum steps will opt for a combination of the two. Aluminum steps are a great addition down by the lakeshore.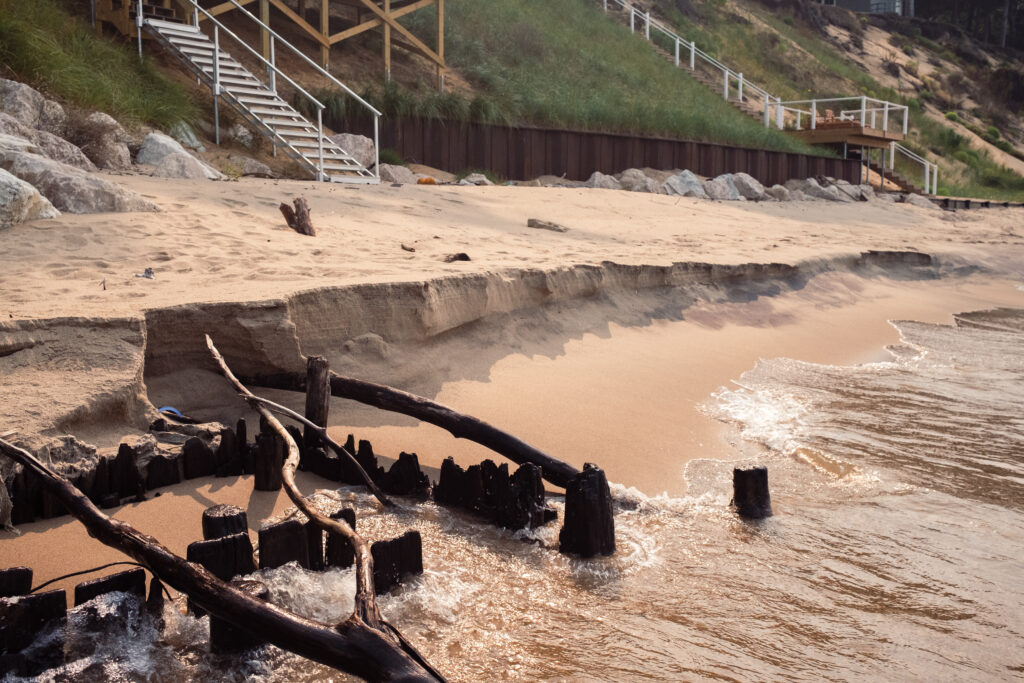 What Now?
Get a quote on a custom aluminum stairway for your home on Lake Michigan.
Located in the Holland area, we work with homeowners all along the West Michigan shoreline to keep their lakeshore properties beautiful and stable.
For more information, get connected with us today!